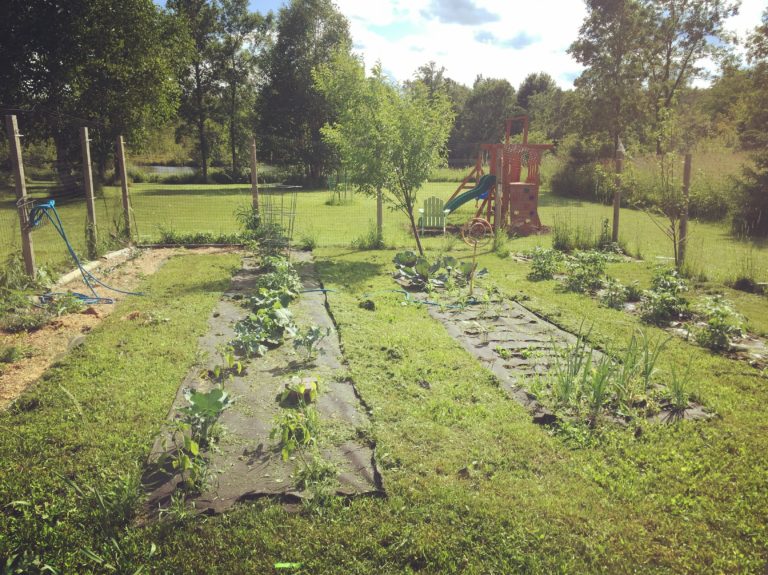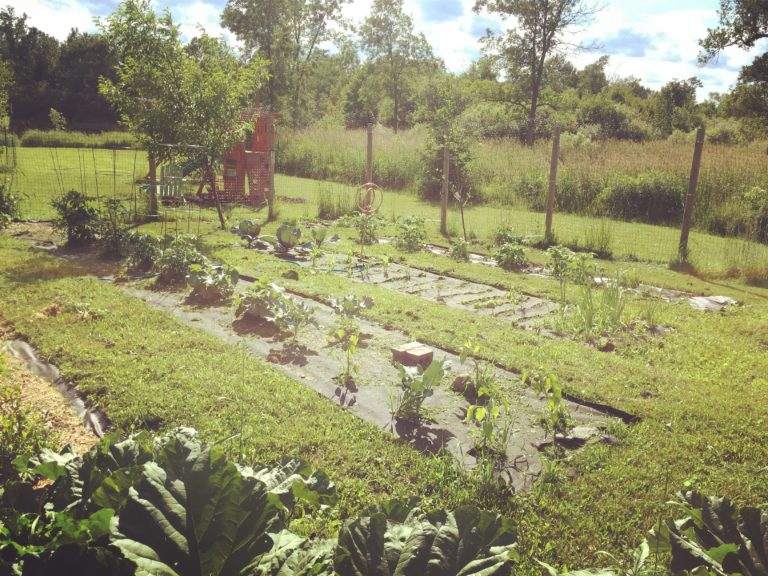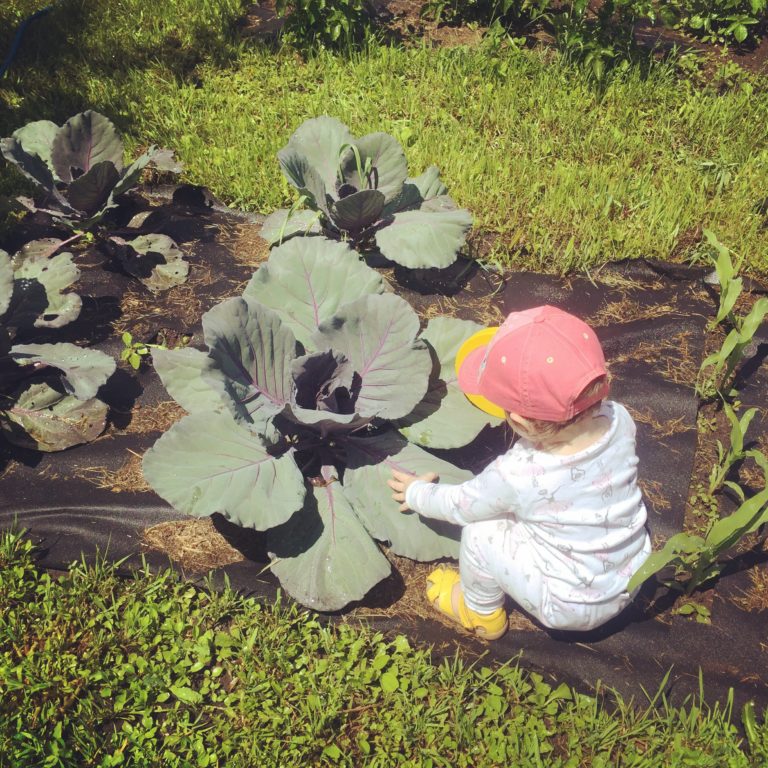 Wow, lots of growth in the garden since my last update! (Here's part one and part two.) I'm liking the layout this year, and I can heartily recommend DeWitt landscape fabric. This is NOT a sponsored post — we just have some tenacious weeds out here, and spending money on good landscape fabric has turned out to be very much worth it!
Looking at the top photo, on the left (the row with mulch) I've got some perennial plants — my rhubarb, two new blueberry bushes, and herbs. Then several broccoli plants toward the back. At the very back are cantaloupes. They're flowering right now, but the plants are still really tiny, so who knows if we'll get anything. The second row has bell peppers, more broccoli, cucumbers, and tomatoes.
Third row is onions, carrots, lettuce, beans, corn, and cabbages. The bean seeds I had were pretty old, and only two of them came up! And our local nursery doesn't have bean seeds anymore. I wanted to grow bush beans this year, but I think it'll have to be pole beans instead, as I can actually get some of those. The corn is flint corn, for milling and using as cornmeal. I haven't tried that before, so our twelve stalks will be an experiment. M is very into the process of growing food (she still talks about her mini potato harvest from her indoor plant!), and I think she'd find it cool to make something like cornbread from corn we grew ourselves. The fourth row is all potatoes.
We also have a big raspberry patch (off to the front right) and strawberries in the back right corner. And two plum trees, both of which need to be tied up straight — you can tell which way the wind blows most often! There are actually a few little plums on my Toka tree, which I wasn't expecting; I planted the other tree after the Toka had finished flowering, but I guess it must have self-pollinated. Fingers crossed that nothing will steal our plums before we get to them! I also, at the front of the garden, have a mystery tree. It was a sucker that grew up from the rootstock of a plum tree that died. I don't know what they tend to graft plums onto — different plums? Apple trees? If it keeps growing, we'll find out!