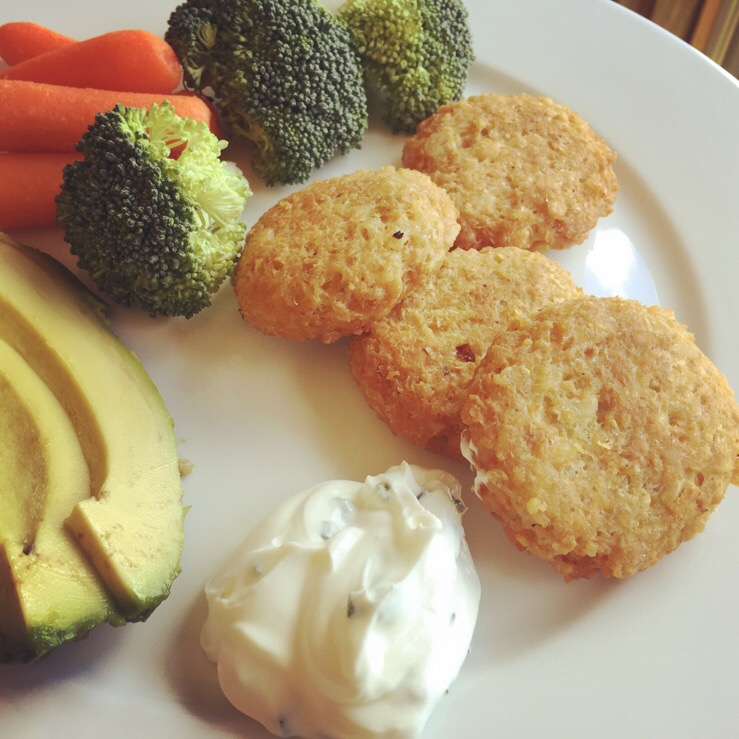 I've never been much of a recipe developer, especially the past few years, when I've tried to get away with as little thinking about mealtimes as possible. But yesterday I was feeling tired of cheese and bread and veggie burgers, so I resolved to make something new with what was in the pantry. The only "beans" I had were chickpeas, and I knew there was a 50/50 chance M would turn her nose up at them whole. So I came up with these little patties, which are a bit like milder falafel. She said, "Mmm, this is yummy!" — and F ate all of hers and wanted more (F is my awesome eater; M could take or leave food most of the time).
Chickpea and Brown Rice Patties
1 can chickpeas, drained and rinsed
1 cup cooked brown rice
1 egg
6 Ritz crackers (= 1/4 cup crushed, could probably substitute bread crumbs)
3/4 tsp salt
1/4 tsp garlic powder
1/4 tsp onion powder
1/4 tsp chili powder
1/2 tsp cumin
Oil for frying
You can make these without a food processor (use a potato masher to mash the chickpeas), but your patties will probably be chunkier and might not hold together as well.
1. Put the Ritz (or similar) crackers into a food processor and pulse until your have crumbs. Add the egg and pulse a few times until it's nicely mixed in.
2. Add the chickpeas. Pulse until they're broken up but not completely mush. You should still see large chunks of chickpeas.
3. Add the brown rice, salt, and seasonings. You could definitely up the amounts or kinds of seasonings, if you like. I thought these were perfect for kids, though. Pulse until all ingredients are mostly mixed together but the rice hasn't become completely puréed. Turn the mixture out into a bowl and finish mixing by hand, so you can retain some texture (just a few strong turns with a spatula should do it).
4. Pour vegetable oil (or preferred frying oil) into a small frying pan, about 1/4″ deep. I'm guessing you could also deep-fry these, and you could probably bake or sauté them, but I haven't tried any of those. Heat it over medium to a suitable frying temp. (I just waited until a small drop of the mixture started sizzling appropriately.)
5. Make balls of about 1-2Tbsp and flatten them slightly. I used a cookie scoop that's about 1.5Tbsp, and it was perfect. Fry a few at a time, for 2-3min per side. Place on a paper towel after frying, to absorb the extra oil.
6. Eat, eat, eat! They were really good dipped in sour cream (with chives from the garden), but F says you can eat them as-is, as fast as possible.