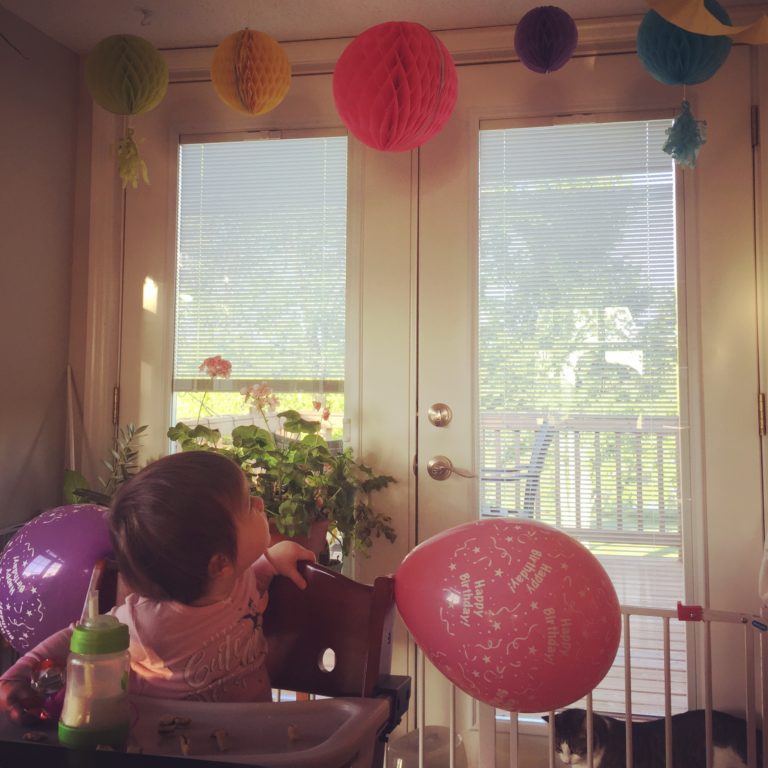 My little F is a real toddler now — she's been walking for almost a month and a half, but yesterday she turned one! We had a low-key day yesterday; M had helped me decorate the kitchen the night before, and we opened F's little presents after lunch. We're having a party tomorrow, so she has to wait until then for her many fans — and her cake!
What a year it's been. She and M are so alike in the ways that matter: both are sweet, happy, funny, smart, and super cuddly. But the first years felt so different. I wasn't new to motherhood this time around, and more importantly, we didn't have to weather the trauma and heartache of M's medical issues. F has been a little challenging in the normal ways, but that stuff is easy.
From the minute F could hold her head up and catch a glimpse of her big sister, she's been on a mission to catch up. She hit all her milestones about 1-1.5mos earlier than M (who was no slouch!), and I swear it's because she sees this big kid running around and desperately wants to join in. She's also SUPER dramatic, and I think part of that comes from having a 3.5yo as a role model. Preschoolers aren't known for their mild reactions to setbacks! So F has taken some of that on, and I think there's also just a need for her to be louder so I can hear her over M's constant chatter! I can't wait for (but am also kind of dreading?) the day when F is talking up a storm, too — I just hope that the two of them occasionally talk to each other and not both at me, non-stop. They'll probably have their own comedy routine by the time they're school-aged.
It's such a joy seeing F growing up, but this change to toddlerhood definitely feels more emotional than when M was going through it. I think it's partly because I know she's my last baby and partly because the past year was so full of sweetness (and less stress). The good part is that the sweetness doesn't end! In fact, now that F can walk, I'm frequently hobbled by shin-hugs, so the sweetness just keeps coming!