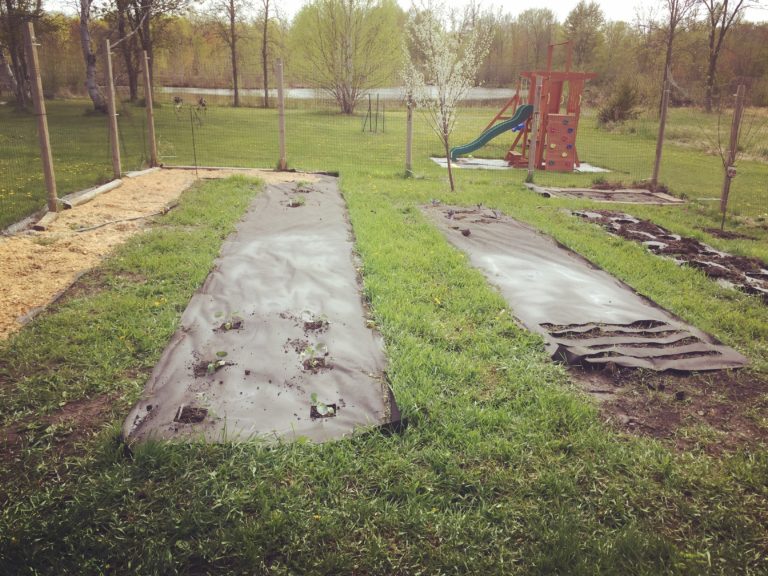 It's not exactly overflowing with a bounteous harvest yet, but it looks better than a month ago, doesn't it? Fairly soon after that last post, I tilled rows and covered them with good quality landscape fabric. Then I waited for cold, rainy day after cold, rainy day to pass. It's been delightfully spring-y lately, though, and yesterday was borderline hot.
We visited the local nursery to buy a replacement plum tree (my Toka plum is doing great, but the other one — and they need two to pollinate — died a couple of years ago) and some veggie plants. It still feels a little early to plant tomatoes, but I got two to start with, and we'll either replace or add to them in a week or two. We're right on the zone 3/4 border, so you never know which way it'll swing! My Mother's Day present was spending F's afternoon nap in the garden with M, who had a great time running through the sprinkler in her bare feet.
I've got four main rows in the garden now. On the left (the one with the mulch) there are mostly perennials, so far. My rhubarb is right at the front, then two new blueberry plants, then two herbs (thyme and oregano) that should come back year after year. At the front of the next row is broccoli, with tomatoes down at the back. The mulched section along the back fence, connecting the first two rows, is going to be for squash/melons. I think we'll grow pumpkins this year, as that would be fun for M. The next row has onions at the front (in those strips) and cabbage at the back. And the final row is all potatoes. My strawberries are in the back right corner, and the front right corner (which you can't see) is full of raspberry canes. They're from the few surviving canes that I brought up from Minneapolis, and they sure have taken hold and spread!
It's getting to the point, as I begin planting things, that I can see in my mind's eye how it'll look in another month or two. Fun!