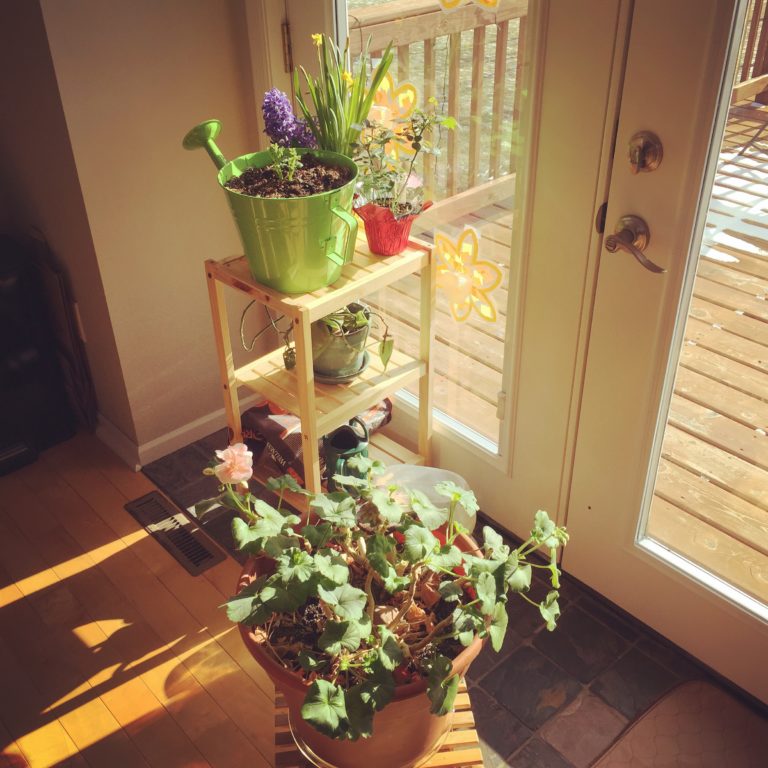 Let's see, it's the middle of March, which means only two more months or so until real gardening can begin! Right now, we're making do with our little indoor garden (which I rearranged onto a different shelf after taking this photo). There's my geranium, which will be two years old this summer — I cut it way back a few weeks ago, and it seems to be filling in nicely from the bottom now. It's quite a trooper! We have our mini bulb garden that was super cheap at the grocery store, but which has the biggest hyacinth I think I've ever seen. There's M's potato plant; we planted a chunk of baking potato that had sprouted a while back. It's growing pretty nicely right now (in the green watering can planter), but having grown potatoes outside, I'm not sure A) how long we can sustain a full-grown potato plant indoors and B) whether any potatoes will grow in our smallish container. We'll see! We also have a couple of pineapple tops that I planted ages ago, which seem reluctant to commit to either dying or growing. (There are lots of other indoor plants, but they're not part of our "garden".)
And we've (I've) got our summer gardening dreams! I've ordered a bunch of strawberry plants, and I want to build a sort of enclosed bed for them, so the critters can't eat all our berries. I'm thinking I might put clear plastic on the sides (to maybe lengthen the growing season a little?) and hardware cloth on the (hinged) top, to let in bees. I'd like to do sometimes similar for the blueberry bushes I've ordered, but since they'll get taller, that might be harder.
I'm going to overhaul the layout of the garden this year; I still haven't settled on something I like enough to keep the same season after season. But I'm thinking long rows, covered with landscape fabric to keep the weeds down. Mainly, I'm excited because M is really old enough to "get it" now. She has ideas about what she wants to grow in the garden (good luck with those bananas, M), and she might actually be a help (more than just cute "helping") this year. Gardening has been hit or miss over the past five years — misses on the years I've been too pregnant or busy with babies to get properly organized. But I think this year might be a hit!