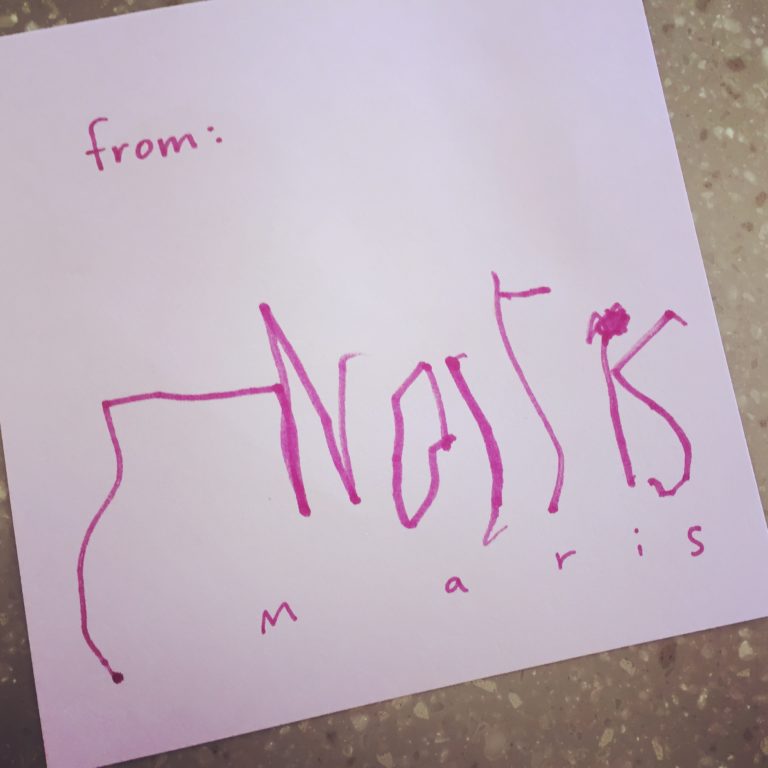 Three years old is a pretty challenging age, I'm finding, but it's also very cool to see M picking up new skills and concepts so quickly. And often, it seems, out of nowhere. Oh, now you recognize all the numerals? Okay!
When we started home preschool in the fall, M really wasn't ready for or interested in a lot of traditional materials and lessons. So I stopped pressing, and she's wound up learning most of that stuff in her own organic M-way instead. Every now and then (quite rarely, as it's a skill she's not keen on practicing), I ask her to try writing her name, and she surprised me the other day by being able to write all five letters! We were both so proud.
I still don't know what "school" will be for the girls as they grow older. I'm not willing to commit to anything on their behalf! I do know that I have concerns about our local public school system (though the individual staff members I know are all completely lovely people). At the end of 2016, I remembered that I had signed up for Heather's Home Grown Education webinar thingy and listened to all of her and Ben's episodes about their homeschooling experiences. I was surprised to find myself thinking that maybe homeschool for us would look a lot like unschooling — or at least like something in the middle. It's hard to say when my oldest is only three! But the best thing about her "education" so far has been following her interests and seeing how easy the path is when we go that way.
I think I've mentioned her favorite bee book, which I would have said was quite above her level. But it's one of her favorite books, and she's retained a lot of the information — knows about field bees vs house bees and the egg-larva-pupa-adult cycle and how honey is made. A lot more than I knew about bees as a kid (or even a month ago!). So it's fun to see how much she can learn when it's entirely self motivated. What a privilege it would be to be able to foster and support that kind of education!