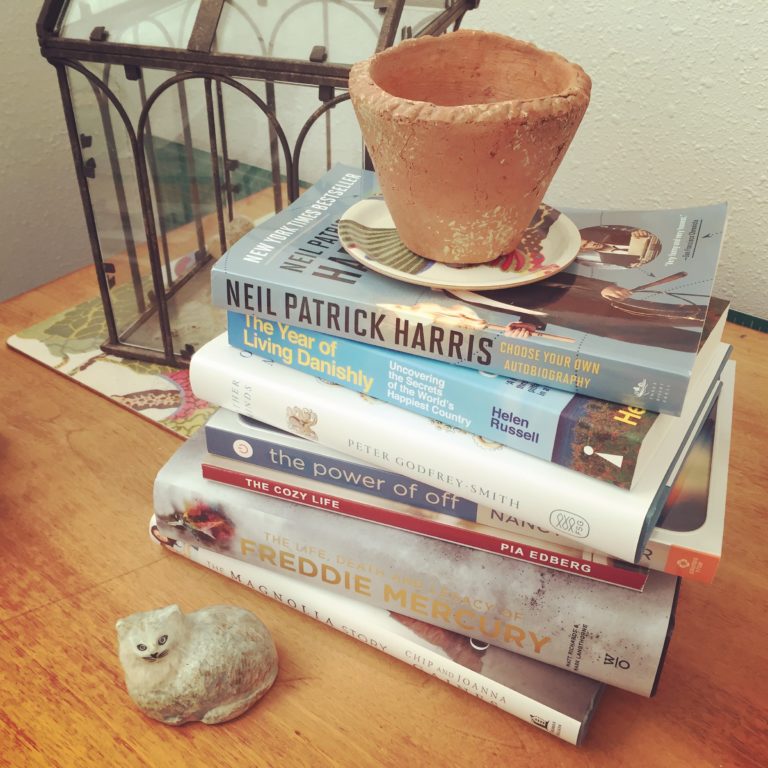 Part of my plan to reduce screen time is books, books, books! It's easier to check Facebook than get lost in a book when there are little kids hanging off you, but (especially thanks to some "fluff" books) I'm managing it. Here are my quick thoughts on the books I've read so far this year:
Choose Your Own Autobiography by Neil Patrick Harris — Who doesn't adore NPH? I didn't love the choose-your-own-adventure format (I felt like I was missing big chunks of the story), but it's very funny and well-written.
The Year of Living Danishly by Helen Russell — I'm interested in this happy-Scandinavian thing, and this was a thorough look at life in a quite-differently-run country. I thought Russell did a good job looking at both sides of Danish culture (the good and the bad), and the book definitely made me wish certain things were different in the US! (Not that I need much help with that.)
Other Minds by Peter Godfrey-Smith — Rob sent me this one; everybody needs to know more about octopuses, no? This was more of an after-the-kids-are-in-bed book, so I could focus on the ideas better. Lots of trying to puzzle out evolution and consciousness and other cephalopod-y goodness. Bonus: When I said "cuttlefish", M thought I was saying "cuddlefish", so now she calls them "snugglefish".
The Power of Off by Nancy Colier — I've already mentioned how important I feel this book is. If you struggle at all with over-use of devices / the internet, give this a read. Our culture has given technology addiction a pass, saying, well, that's just how modern life is, but I don't think that's entirely okay.
The Cozy Life by Pie Edberg — A sweet little book about hygge. I enjoyed the first part of the book — the discussion of hygge and related culture. I especially enjoyed the interview with the author's father (who grew up in Denmark). The second half of the book wasn't really for me, as I'm not looking to redecorate my home, and children make a lot of her suggestions a little far-fetched.
Somebody to Love by Matt Richards and Mark Langthorne — A wealth of Freddie Mercury information, somewhat poorly executed. The writing itself is perfectly fine, on a sentence-by-sentence level, but I nearly stopped reading halfway through because the structure was so annoying. It needed a heavier hand with the editing, to make sure events were related chronologically instead of pulling the reading backward and forward with almost every paragraph. It evened out toward the end, so I'm sure the problem was just that there was SO much information there; it didn't get entirely straightened out into a perfect narrative.
The Magnolia Story by Chip and Joanna Gaines — If you've got eyes, a heart, and HGTV, I think you are required to love Fixer Upper. A total fluff book, but very sweet, and it's an interesting peek into both house flipping and how some of these TV shows come to be.