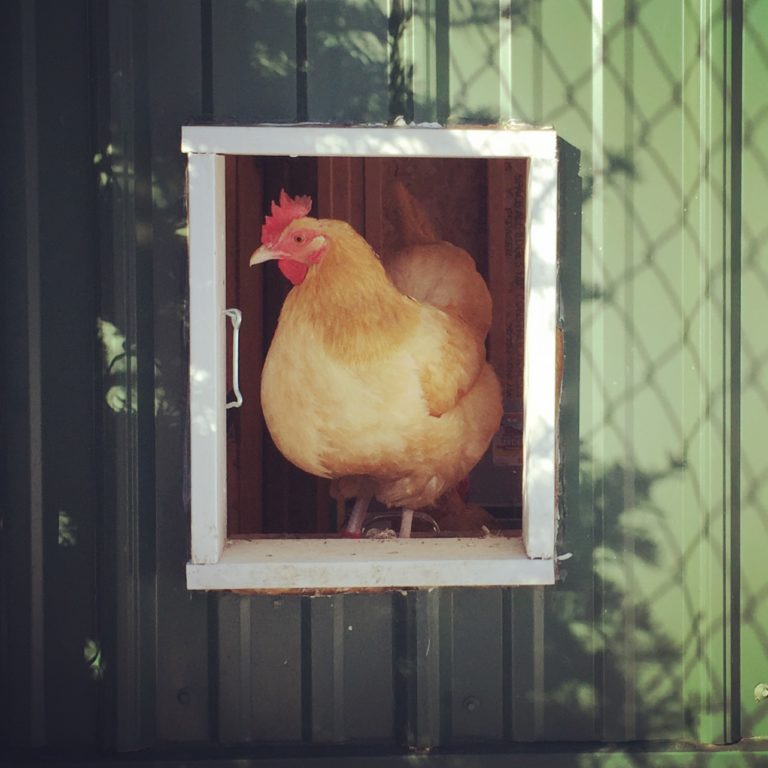 — Here's Charlie, thinking about coming outside. She didn't that day, but everybody came out later in the week; the snow had finally melted and given them a patch of grass to walk on. The chickens have been much pickier about walking on the snow this year (i.e., they completely refuse to), which I still think must mean they're pretty happy in their big coop.
— In sad chicken news, I had to bring Laverne to the vet to have her euthanized. I've read that chickens are so good at hiding their illnesses (being prey animals and not wanting to seem weak) that they often appear to decline very rapidly once it becomes noticeable to us humans. That was definitely the case. She was my most special lap chicken, so it was hard to say goodbye. It was almost impossible to find a vet that would see a chicken. I called all around, and the one large-animal vet (within an hour's drive) that works with poultry was completely booked up. I finally called back our regular vet and begged, and they were accommodating and very kind to the lady crying about her chicken.
— F is crawling! Not very well, admittedly. But babies operate on a steep learning curve, so it won't be long before she's zooming around. So far, F has done everything a bit earlier than M. Sitting (5mos vs 5.5mos), first tooth (7mos vs 8mos), and now crawling (7.5mos vs 9mos+, but there were complicating factors for M). It makes me scared to think how early she might walk! And also convinced that I must have gestated F an extra month or so — how else do we explain a 10lb3oz baby when the first was barely over 7lbs?
— M is the best big sister, though. All things considered, she's very patient with F and usually mostly delighted by her, too. M's favorite book at the moment is The Life and Times of the Honeybee. I wouldn't say that it's for the preschool set, exactly, but we MUST read it EVERY night, and she's just fascinated by it. I love seeing what captures her mind. In less intellectual pursuits, she's also in love with the Littlest Pet Shop toys right now.
— I've been reading quite a bit this year (since my birthday and Christmas, really, since I got a bunch of books). I need to do a post to talk about the books I've read lately. Right now I'm reading The Power of Off by Nancy Colier, about technology addiction. I'm only halfway through, but I can't recommend it strongly enough. SO many passages have made me want to whip out a highlighter, and it's just very validating to have somebody saying, "This is a real addiction," and explaining why it happens and what it does to us. I think I've convinced at least one other person to read the book and go through the 30-day detox with me. I'm excited!