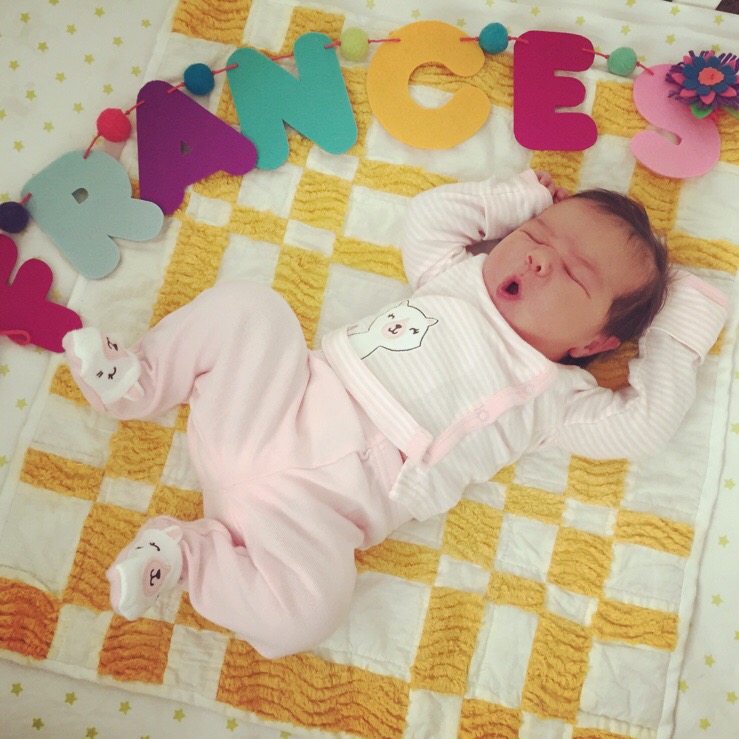 She's here! Baby F made her entrance two days ago, on the afternoon of June 2nd. I woke up that morning with mild but distinct contractions, and when I called L&D, they said to wait until contractions were a minute long before heading in. So I did, but once things got going, they REALLY got going. The hospital is usually an hour away, but Rob drove like a superhero and got me there in record time. I was trying not to push as they wheeled me up to L&D, and the midwife had to sprint over from the clinic.
I was really looking forward to one of those "three pushes, and the baby was out!" type second deliveries, but I wound up pushing for about an hour and a quarter (still nothing compared to how long it took to push out M!). Afterward, the midwife said she was surprised/confused that I wasn't doing a better job pushing the baby down, considering this was my second labor. But when the baby finally started to come out, she thought, "WHOA!" and understood — Baby F was 10lbs3oz! With a 15″ head! I had figured Baby Sister would be bigger than M, but I thought maybe 8lbs, perhaps 8lbs8oz — I would have been surprised by 9lbs. So I was REALLY surprised that she was over three pounds heavier! Same length (21.5″), though.
She's perfectly healthy, and we were able to come home after 24hrs, thankfully. M says that Baby Sister is "sooo cute" and has been very gentle so far. We've got a long transition in front of us, but it's off to a great start!
(Like with M, I won't be writing out F's name here or on Instagram, and I won't be sharing more photos of her face here. But I know some of you have been waiting to meet her!)