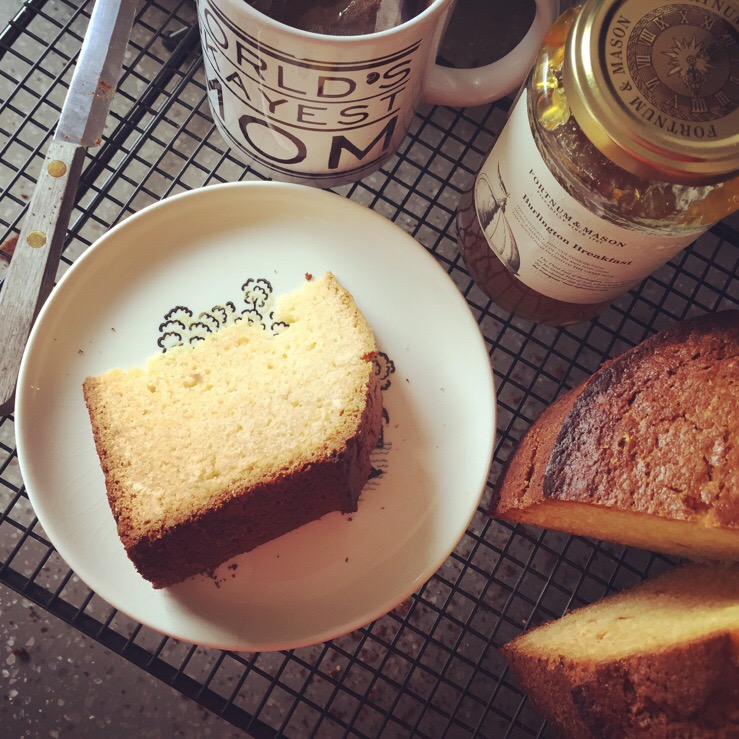 Make this cake! I mean, if you have a jar of marmalade going spare. There's always one in the Fortnum's hamper that Rob gets, but while I like marmalade, I don't love it enough to get through a jar in the four weeks recommended on the label. So I went searching for a cake recipe to use it in. This one wound up being just right. I liked that it used a substantial amount of marmalade, instead of just a few tablespoons. And I just happen to have a 6″ wide, 3″ tall cake pan — convenient!
I was worried that the cake was going to be really overdone and dry around the edges, since it takes so long to bake through in the middle, but — at least today, when it was super fresh — it wasn't at all. I covered the top with foil after 45min, and I turned the oven down to 325˚F for the last 10min (I was getting nervous!), but I did keep it in there for exactly the recommended 75min. The edges turned fairly dark and are crunchy (in a good way), but the interior stayed light and tender.
I don't use self-rising flour, so I used cake flour (to keep it a bit lighter) and three-and-a-bit teaspoons of baking powder, plus a teaspoon of salt. That seemed like a ton of baking powder, but it was actually less than the recommended substitute for self-rising flour — at any rate, the cake rose nicely and doesn't taste bitter! It's basically a pound cake (lots of butter), but I thought the method was interesting: you cut the butter into the flour (I used a food processor), add the sugar, then add the wet ingredients.
I could see a sprinkle of powdered sugar being a nice touch, but I don't think the cake really needs anything extra. There's a lot of flavor from the butter and the marmalade, and it's sweet-but-not-too-sweet. A perfect cake for eating with tea (or for breakfast, 'cause that's definitely going to happen!).