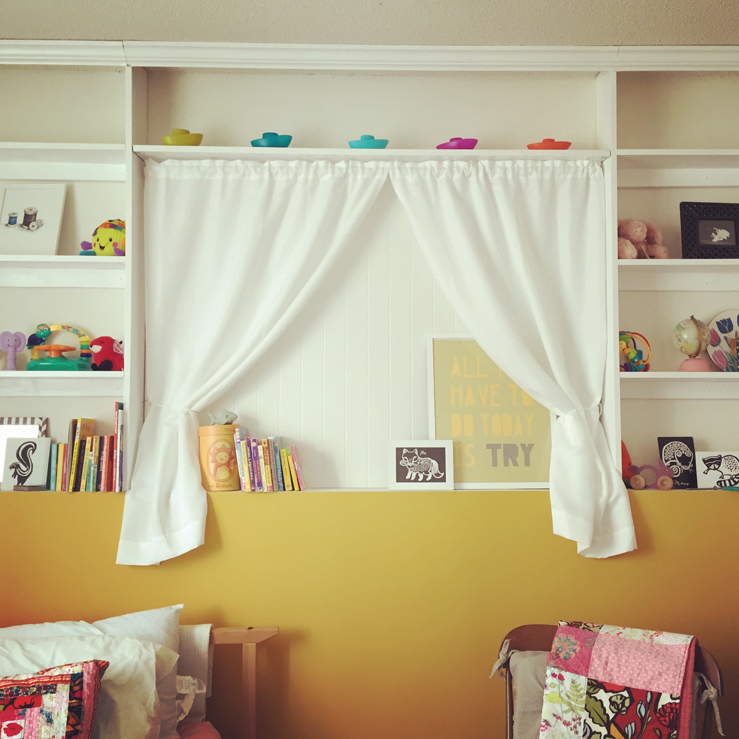 Rob gets more riled up about some of the questionable craftsmanship in this house than I do (he's used to houses in the UK being built out of solid materials like stones and brick), but one of the things that annoys me is how drafty a lot of the windows are. I mean, the house is only a bit over a decade old — we're not talking about hundred-year-old windows here. Oh well.
M's window stays sealed in the winter with plastic, but in Baby Sister's room, I was dealing with two problems: a north-facing window that was both drafty and letting in too much light. M has a black-out shade on her window (I don't know how people trick their babies/toddlers into napping without them), but Baby Sister's room has two windows, which was really one more than necessary for the time being. So that north-facing one got boarded up! I actually used beadboard paneling that was left over from my bathroom. Put some weather stripping stuff around the edges of the back and nailed it into place. Problems solved (I hope).
You can see that more than enough light still comes in from the other window, which eventually will get a black-out shade. There are mini-blinds on this window (still in place behind the paneling, so the boarded-up-ness isn't visible from outside the house), but I never had curtains on it before, so it's actually cuter now than when there was a window there! And this should keep the drafts, light, and ladybugs (fingers crossed) out for a few years — until even Baby Sister is done with naps.
p.s. — The 'theme' of Baby Sister's room is Toysplosion, aka all the toys that M has outgrown, even though they're suddenly really interesting again, now that she thinks about it.