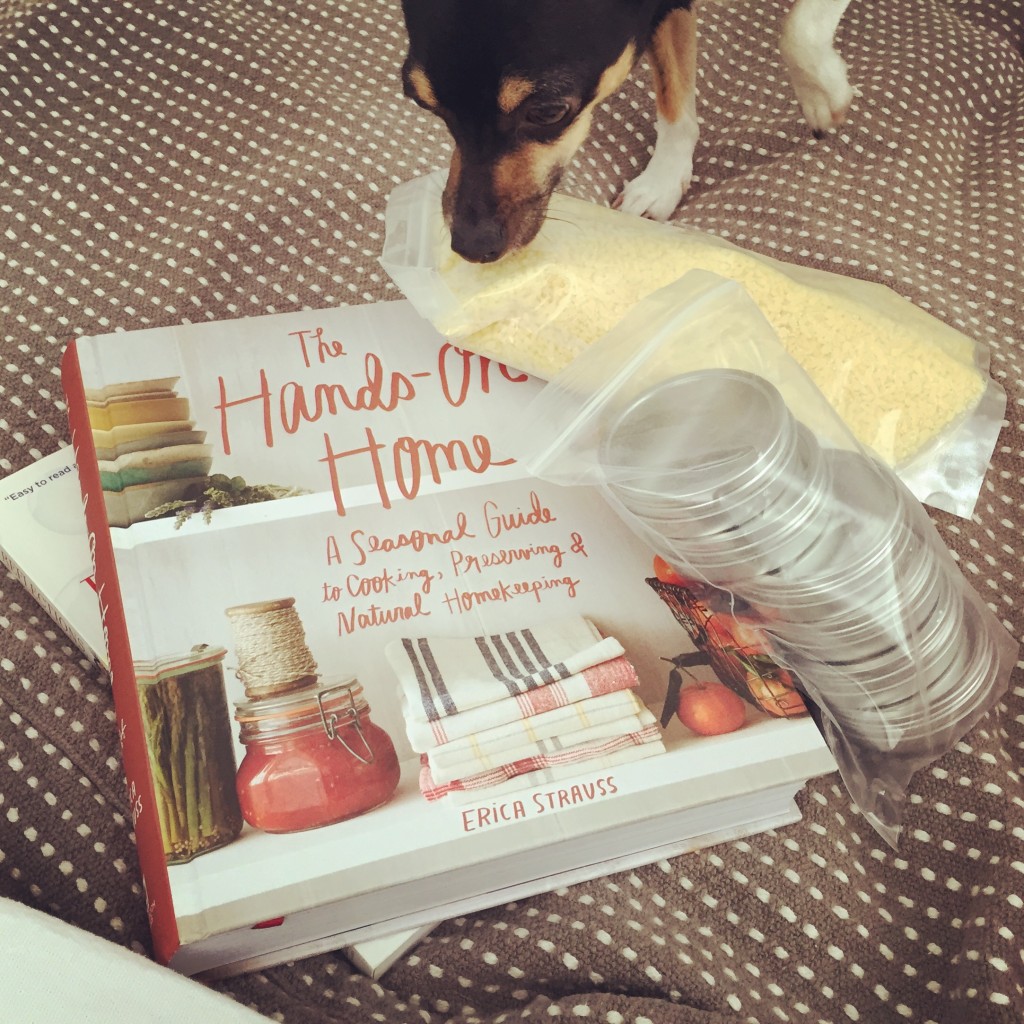 Happy New Year! Time to quit your celebrating and start getting serious about becoming a better person, FINALLY. To be honest, my only REAL personal goals for 2016 are to give birth to a healthy baby and to try to help both kids thrive. But there are some other things, too, of course:
1. Stop using commercial cleaners. I think this one should be pretty easy, as long as I'm serious about it. The book in the photo above has some good recipes for homemade cleaners of all sorts (along with a good explanation of why certain things work well for certain types of 'dirt'). I've already emptied out my freezer-vodka to make window/metal cleaner (better odds of my using the vodka that way!). Paired with a microfiber cloth, it gets my black stove top SO shiny!
2. Start THINKING about how to eat more locally/seasonally. With another baby on the way, I have no illusions that I could put this into action this year. I'll be lucky to avoid microwaving 90% of our meals come this spring! And I'm not planning to someday go totally hardcore locavore, but there's a ton of room for improvement in our current diet. So I just want to start finding out where I can source various foods/ingredients (bread flour, for example). And thinking about what I can realistically grow in future years. I find the idea of eating locally quite challenging (especially in Minnesota, and especially in rural Minnesota, where there aren't big co-ops just ten minutes away), so simply doing a bit of planning is a big enough goal for me right now.
3. Less screen time. I find this a much bigger challenge than M does — maybe she can give me some tips! We've had a couple of screen-free weekends, which were great. I think that would be my ideal: no screens each weekend. But sometimes I have to get work done during the weekend, and I have a hard time drawing the line if I've already got the laptop open. But less screen time would feed nicely into other things I'm always working toward — keeping the house tidier/cleaner, getting out more, etc — so it's a good place to start.
How about you? What amazing goals are you TOTALLY going to accomplish in 2016?
(p.s. — The beeswax pellets and little tins are for the salve I'm going to make from this summer's calendula. M saw the beeswax and said, 'Chicken food!' She's a country kid, alright.)