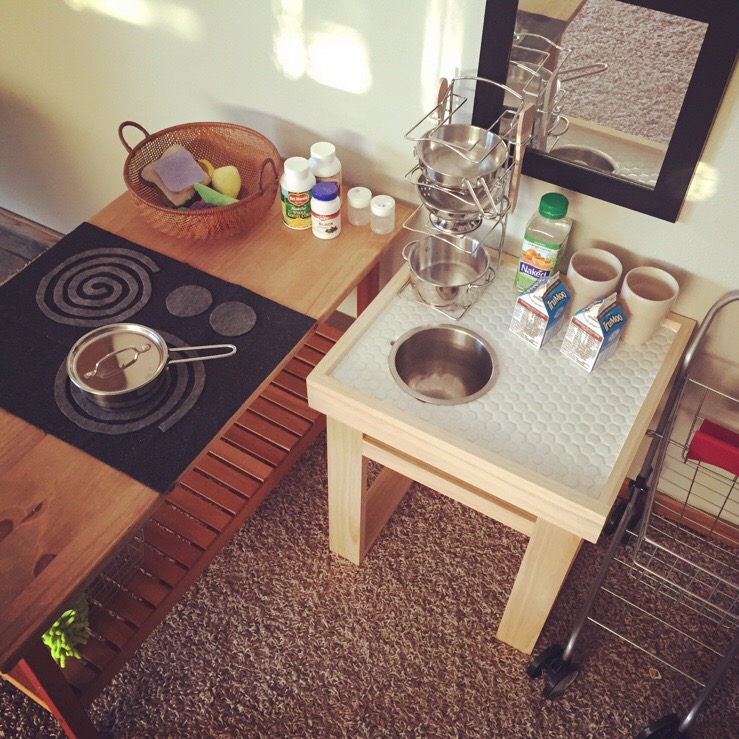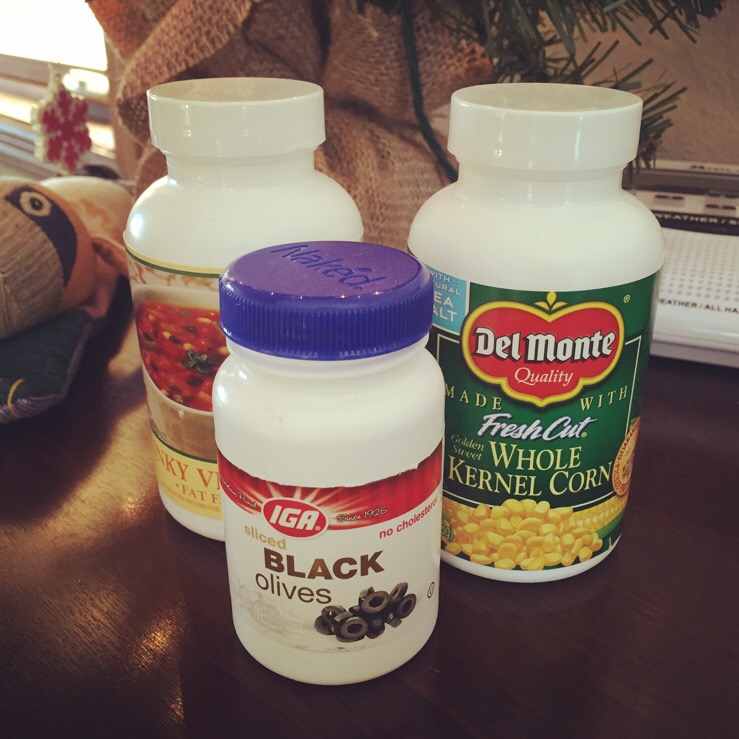 I resisted the idea of a play kitchen for quite a while. I wasn't specifically opposed to them, but I figured M plays in our REAL kitchen all the time, and there's the whole Montessori philosophy that children enjoy participating in real activities over pretend ones. Then we started going to early childhood class, and M has LOVED playing with their (really nice) play kitchen. So I thought I would try to pull together a little kitchen at home, without spending a ton of money.
The sink is the one I made for her to wash her hands. But it turns out she prefers to used the real sink, which is a-okay with me. So I brought the sink table out to her family room play area. A bench with a wooden top is the rest of her counter space. I made her a stove out of felt and glue (still have to do something to make dials on those little circles). And I have a metal box with a hinged door that will eventually become her oven or fridge. Her pots and pans are a Melissa and Doug set that M's grandma got her — they're very good quality!
The food is all stuff we had on hand already (she's getting some new Hape play food for Christmas!) — a set of fruit and veggies from a 'Toob', some cloth fruits, a piece of felt toast that I made for her. And I pilfered the recycling for everything else. I'm pleased to have a second life for all the empty vitamin bottles I wind up amassing; I just cut the labels off tins of food we'd eaten and cut them to size and taped them on. And at the last class snack time, I asked if we could have a couple of the empty milk cartons. M has brought us cups of 'chocolate milk' to enjoy about a dozen times this morning!
She really likes her little kitchen, and it's very satisfying to see her play with it. One difference between her play kitchen and helping with real tasks in the kitchen upstairs is that she gets to do whatever she wants in hers, however many times she wants. And you know how toddlers like to put things on repeat!