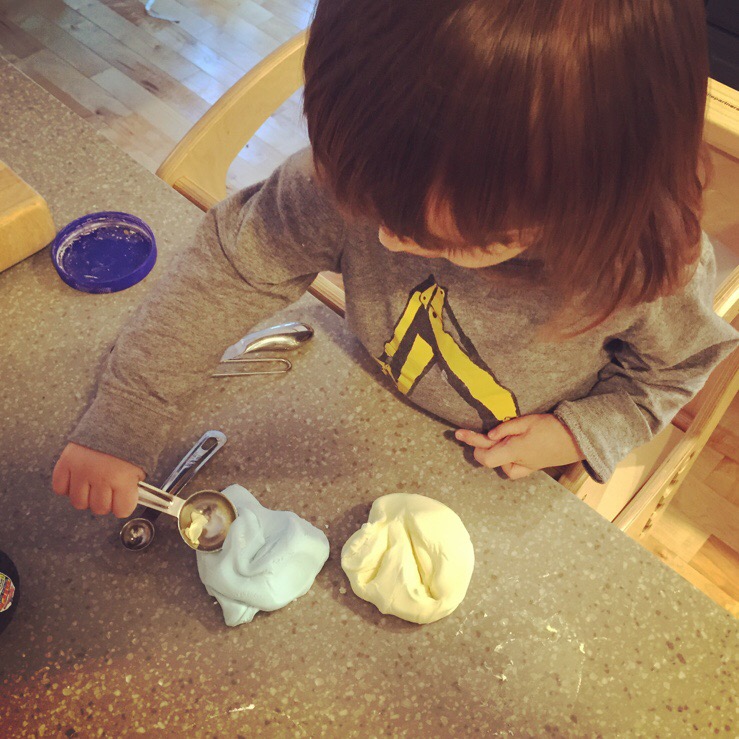 We made a different kind of play dough today, using just cornstarch and hair conditioner. I keep seeing it pop up on Pinterest. It's basically one part conditioner to two parts cornstarch, but make sure you have a little extra of each to tweak the consistency (I needed a little extra cornstarch). I used 1/2c conditioner and 1c+ cornstarch and made enough for the two blobs you see in the photo.
It's a fun dough — kind of a mix between regular play dough and the gloop you get when you mix cornstarch and water. If you hold it up high, it'll stre-e-etch down to the table and look like it's drizzling down. But you can also break the lump clean in two. M was moderately interested in it, but she was just waiting for me to move her tower over to the sink so she could play with water.
My tip: use unscented (or very lightly scented) conditioner. I didn't think the stuff I was using was particularly pungent, but it seemed way too strong when it was all mixed together!