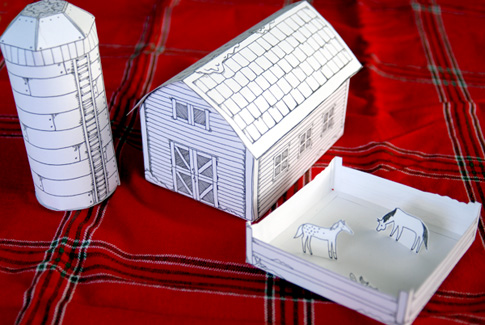 Winter-Time Paper Farm! Ahh! Finally, after almost two years of intending to create another paper house pattern download, I've done it. I knew I didn't want to just make more houses, so I decided on a farm. So cute!
The download includes the patterns and instructions to create a barn, a silo, and a pasture with some horses and chickens milling around. I thought the silo was a great idea until I actually started drawing it, and then I was suddenly messing around with pi and circumference and sides of hexagons. You don't expect there to be so much math when you're drawing! Luckily, I paid attention in geometry class.
I think the paper farm would look really cute with the original free download as the farmhouse — or, my favorite, the log cabin from the Winter-Time House Pack. I want to really thank everybody who has bought that house pack over the past couple of years, both for supporting this creative endeavor and for sending me such nice comments about the patterns (and photos of the finished houses — I love seeing those!).
The Winter-Time Paper Farm PDF can be bought for $5, via e-junkie. Once you pay, you'll be sent a one-time download link, and then all you have to do is print the patterns on some cardstock and get crafting! So enjoy — and thank you once again!