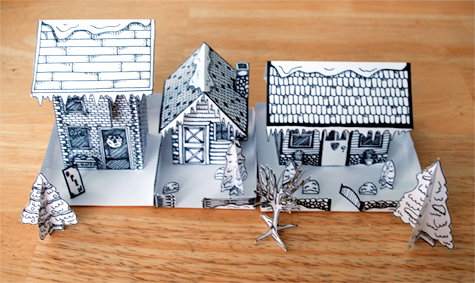 They're here! I've finished! Finally! You can now buy the patterns and instructions (although they're not too complicated) for the three buildings above. Turn your winter-time paper house into a winter-time paper village!
Included in this pack: the grocery store, the little log cabin, the rambler, and several trees and shrubs to add extra interest to your village. Once you've paid your $5.00 and downloaded the file, you can print out the patterns as many times as you like and create an entire log cabin community or a pair of fierce rival grocers!
Thanks to some helpful comments, I've set up payment and download through E-junkie. Once you pay with PayPal, you'll be given a link to the file. Easy peasy! So buy now! Tell yer friends!
Ready?
(Hey, did you know there's also a Paper Farm? With horses and a barn and everything!)