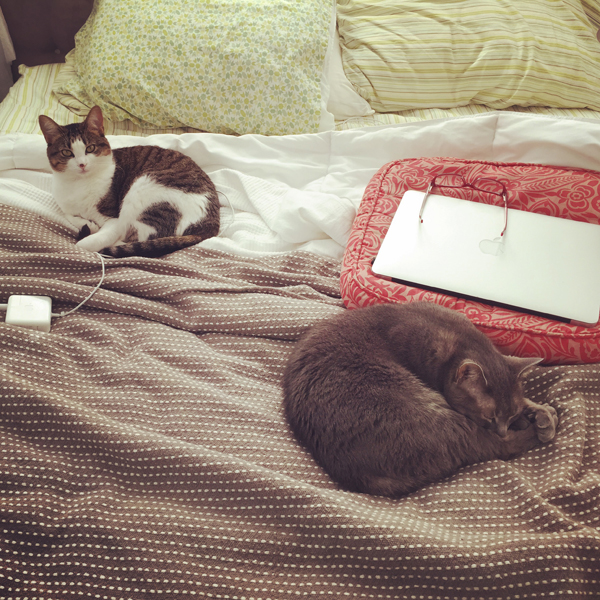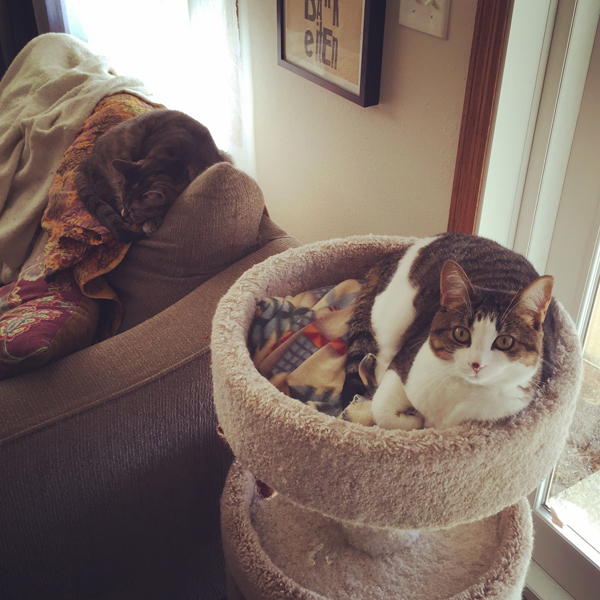 Things are finally settling down in the cat world. Birdy hasn't actually attacked Bear is ages and ages, but she's chased her plenty of times, and Bear has been super cautious, trying to stay out of Birdy's sight. Until recently. In the last few weeks, Birdy has really mellowed out, and Bear has become much more trusting. I've seen them actually PLAYING a couple of times, and as you can see in the second photo, they even slept just a few feet from one another yesterday. Bear is moving much more freely around the house, and both she and Birdy just seem happier. Hooray! It only took a little over a year.
Here's something interesting about each of the cats:
Birdy — I think the turning point for Birdy and Bear was the collar (with bell) that I put on Birdy. I thought it would let Bear know when Birdy was around, which it has. But I'm also pretty sure that Birdy just feels… fancy. Unexpected! But she just looks so proud lately, I swear her fur is shinier, and she seems less blob-like.
Beany — When Rob is here and I go away for a day, Beany gets really clingy with Rob. She follows him all around and meows. She never does this with me! Is she asking him to find that lady and mini-lady and bring us back?
Bear — There were times in the last year where I thought I should find a new home for Bear, due to the whole cat-feud situation. What always stopped me what how much M loves her and how good Bear is with M. Beany is pretty patient with M, but it's just different with Bear. Bear and the dogs are also pretty funny together. Now that Birdy is mellowing out, I'm glad I didn't give up.